In Studio Sessions we take you on tour along the work spaces of MAPA artists. We've come to our last artist in the upcoming Amsterdam show Rectangle Roots & Paved Tongues, Jeroen Allart. We meet Jeroen in his studio in Rotterdam West. With the city's modern art museums at a ten minute walking distance, the place seems the perfect hideout for the artist known as 'the romantic of Rotterdam'. Jeroen talks to us about the winding path to his currently thriving practice, about cherishing lockdowns and following the footsteps of the impressionists. 'I can imagine that, one day, I'll take my easel outside.'
Thanks for having me, Jeroen. Your studio is directly below your house. Is it convenient or stressful, having your work so close by?
Oh, I like it. It's easy, especially when you have a family like I do. I can switch between the two realms. And I don't have a need for other artists around me while I work. I work a lot, so conversation would distract me too much. Sometimes I might need to talk with somebody, but then I'll go meet them, in the pub, for example.
Living above your studio, it must be tempting to be there all the time. Do you bar off your work?
I keep office hours and I don't work during the weekend. Otherwise, I'll get burned out. I've had periods, twenty odd years ago, that I was fed up with painting. I'd worked too much. It was scary and it pissed me off, you know; wondering whether that lust for painting would ever return. But now, with this rhythm, there's more balance. I'm working, in my mind, all day. When I go to bed, I'm thinking of the paintings I'll be working on the next day.

You never sneak back downstairs, in a fit of inspiration?
No, I paint at set times from 9 to 5. When I'm not painting, I'm constantly looking for ideas. I jot these down in a notebook or save them in my head. I take photographs of things that inspire me, which is why I always carry a camera when I go outside, especially when I go walk my dog, Bobbie. Since I take time off during the weekends, I manage to achieve enough of a distance from my work. When Monday comes around, I head to my studio feeling fresh.
How did you find your current studio?
It's been my studio, and our house, for twenty years. After finishing my studies in 1995, I went to the Rijksakademie in Amsterdam. Even in those days it was bordering on impossible to find a place in that city. I gave up my rented apartment and moved into my anti-kraak (a place without property guardians) studio. There was no central heating or anything, and it was a tough winter, minus ten at times. I thought: 'Let's make this hard on myself. That way, moving into some tiny room in Amsterdam will be a less tough switch'. But then I met my girlfriend, now wife, and moved in with her. We discovered that houses were four times cheaper in Rotterdam. So my girlfriend – by then the mother of our first child – sold the Amsterdam apartment and we bought this house. Of course, I looked specifically for one that had space for a studio. This room used to be the storage room of a salesman who sold candy on the market.
You seem content with your place. If I'd ask you to design your dream studio in your mind though, what would it look like?
It would be an old classroom, I think, with a view on a polder. It would mean being out of town, though, and I do like living in a city. I have my people here. And you can visit museums and galleries easily. There's so much to do.
You are known for your minimalistic imagery, and for being 'the romantic from Rotterdam'. How did you get that title?
Rotterdam is considered a tough town, so the idea of me as its romanticist is half meant as a joke, a funny contrast. I romanticise that which I paint, landscapes, rooms, people. Painters of around the 1900s are a big inspiration. And when I read about Romanticism, about its emphasis on nature and inner emotional worlds, it speaks to me and my work. I recently made paintings of Normandy. I went there to follow the footsteps of the impressionists, like Monet, Bonnard and Pissarro. I came across this house along the Normandy coast reminiscent of Villa Kakelbont, the Pipi Longstocking house. I love houses that are lavishly decorated, stemming from the end of 19th century, beginning of the 20th century.
Your work induces a certain nostalgia, which has a therapeutic charge and can function as a coping mechanism in times of crisis. Did painting during this Covid-19 crisis have a therapeutic effect?
No, not at all. The lockdown made me terribly happy. It was so quiet everywhere. Streets were empty. I thought to myself: 'the world is a little more like me now'.
You can take your time to take things in. Things were calm and comfortable. People took to nature, went on walks. I think I had more conversations during lockdown than ever before. People couldn't go out, so they sat in front of their houses, having these picknick-like moments. Also, I think people spend more time on interior decorating now, what with all that working from home. I think perhaps thanks to that I've been getting more commissions during the covid crisis.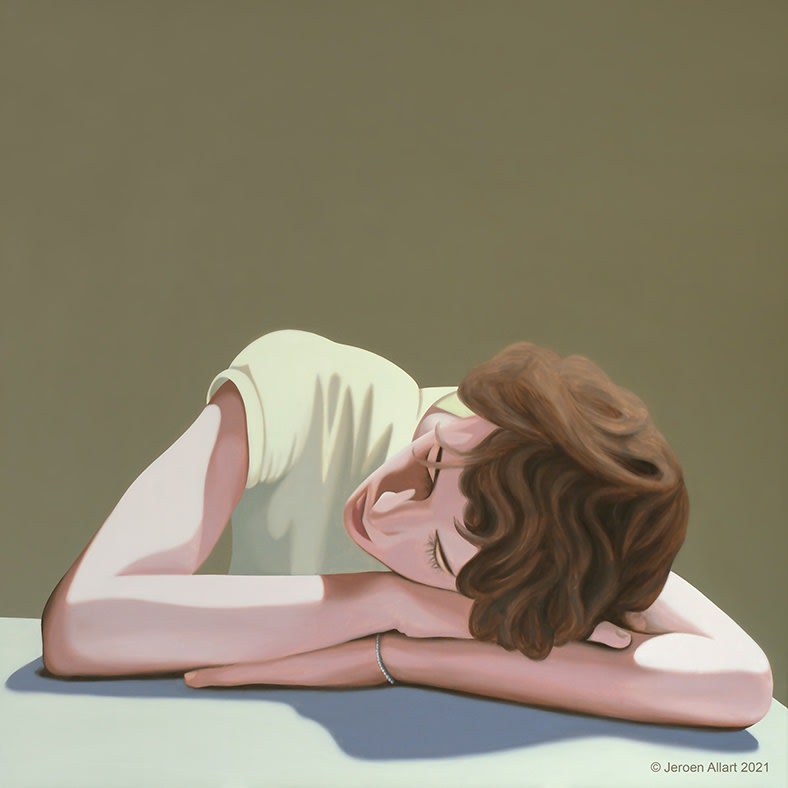 Where do you yourself go look for inspiration?
When it's Spring and everything is new, that's when I feel the urge to go out and go look for landscapes. Fall doesn't do much for me, neither does Winter. I like leaves on trees. Although the good thing about Fall and Winter is that they help reveal parts of buildings that you wouldn't be able to spot and paint when the trees are in full leaf. When I was nine years old, I went on a cycling holiday with my parents. I took in so much of my environment during those trips. It stayed with me. There are so many beautiful places. This one, for example [points at a one-by-one meter painting, nearly finished], is Ransdorp near Amsterdam. It's a commission, so I keep the client's wishes into account. Looking at it now, I'd be tempted to fiddle with these houses I've painted. Although I've already taken some liberties in removing pylons here and there. I often do. All that mess, it needs to go. I do paint modern windmills. I think they're quite beautiful.
Could you tell us something about how your works come into being?
I always get inspired by landscapes and plan lots of outings using Google Maps. I also take lots of pictures when I'm on holiday. It's a puzzle, finding the right composition, making sure, for example, that a group of trees lines up with a farmhouse. In my studio I photoshop the pictures. Next, I create a sketch with coloured pencil on a canvas. I then start with the first layer of paint, everything is still open at that point. Anything can happen.
By chance, a coarse application, or use of colour, a first impression arises. It's that second layer that takes up a lot of time really. At times, I may let a canvas rest for months until I feel I can continue.
Is it different when creating free work instead of commissions?
With free work, there's usually no time pressure, which makes it easier to stow a false start for a while. See this one [shows unfinished painting] is the same model as that one [points at finished painting]. The model is a friend of my daughter. It's just that the moment hasn't arisen yet for me to continue with this one. The easy thing about working on commission is knowing the parameters the painting – a landscape or a portrait – has to meet.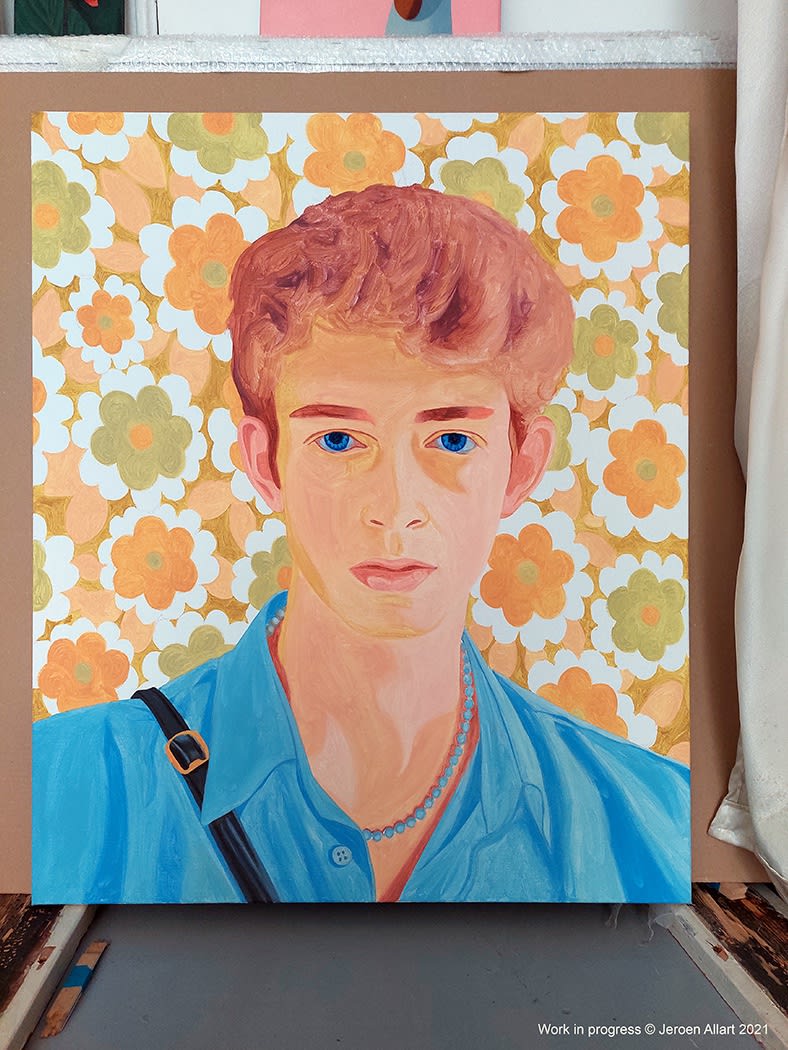 MAPA is a nomadic gallery. Would you ever want a nomadic studio practice?
No, that doesn't draw me.
I like MAPA, though, because the owners are so young. In their twenties. I think that's fun. I'm 51. I like seeing them and their new, fresh take.
But no, I wouldn't want to be nomadic. What I would like, though, is to put my easel in nature. Like the impressionists did, and David Hockney. He went back to Yorkshire where he grew up, and the only thing he did was paint outside. Unbelievable, so productive, that guy. But that stuff he was only able to do at 60 years old. For me, oil paint is something I've only been doing for six years. Before that, I painted with acrylics, very different stuff. So I can imagine that one day, I'll have the experience and the skill to go outside to paint. If I am to go outside, I want it to work out. It should be a success. But I'll have to be able to handle that other people will come up to me for a chat, or to comment on what I'm doing.