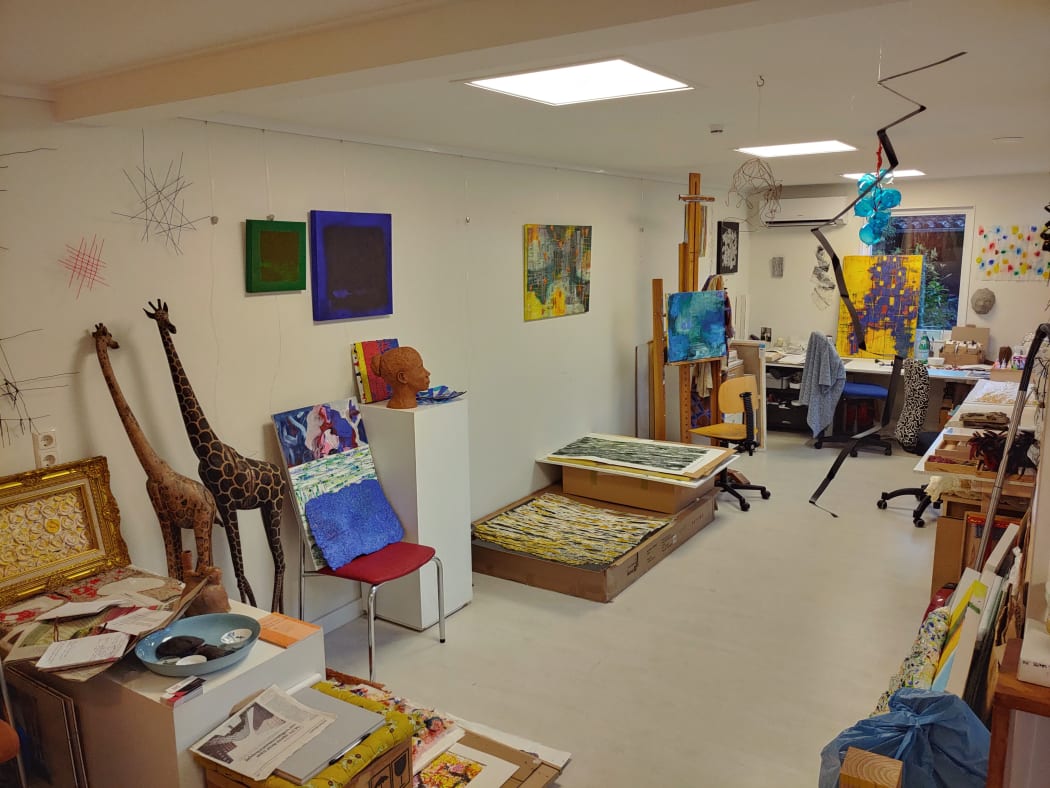 In Studio Sessions we take you on tour along the work spaces of MAPA artists. This time we speak with Ineke van de Pol, the fifth artist in MAPA's upcoming Amsterdam show Rectangle Roots & Paved Tongues. We meet Ineke at her home in the Dutch countryside, where she also has a studio, and talk abouther experiences in Japan and China, her passion for nature and the importance of colours.
What a lovely home and studio you have here.
"Thanks. I think that the working space for artists is a very tough issue, and a problem for many artists who have to rent a space. Fortunately, I do not live in the city, but in a small village, and this studio used to be part of the garage. It's a nice space to work and to develop my ideas."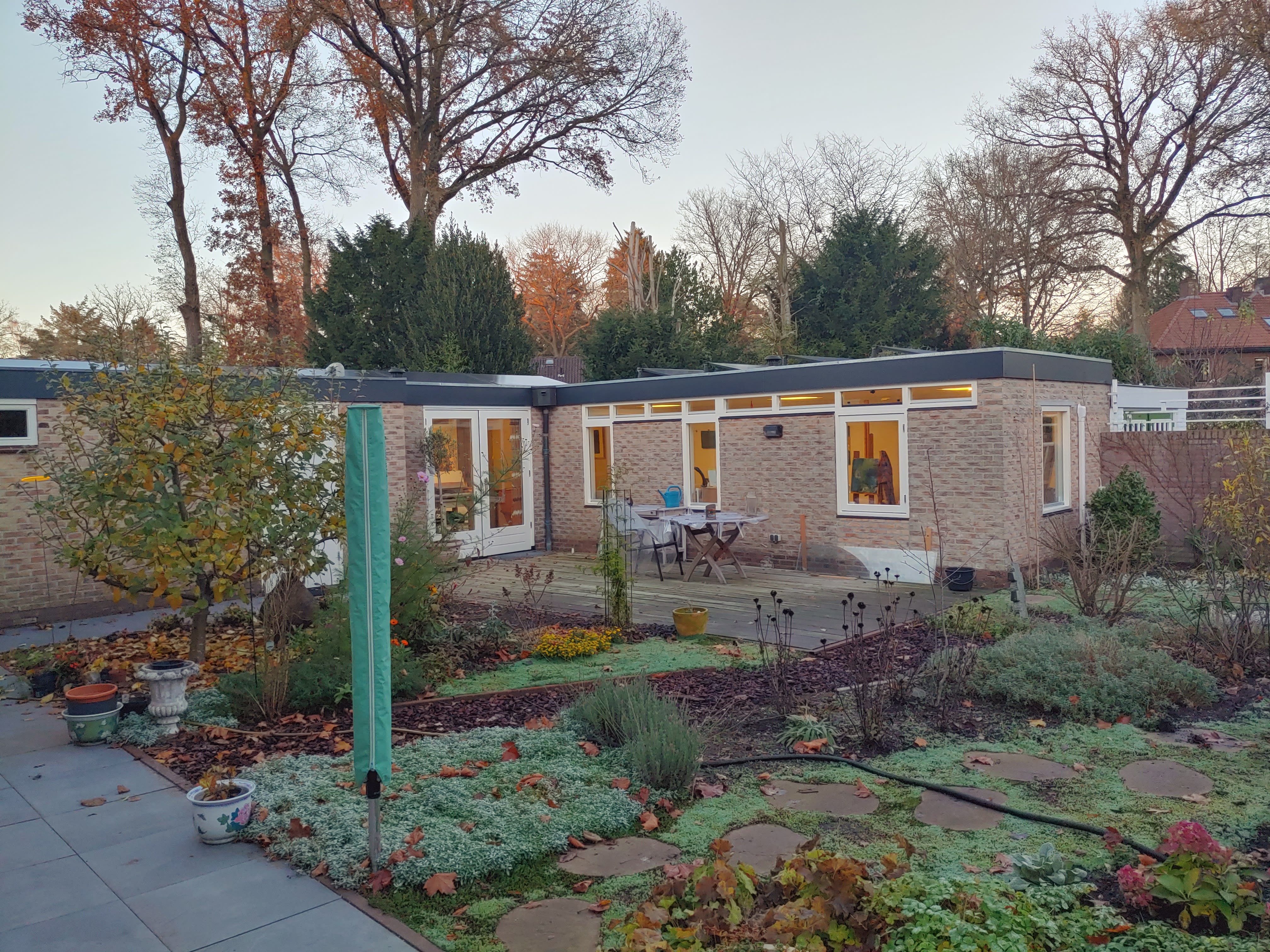 Does being in the countryside also inspire you?
"Yeah, definitely. I am very close to the national park the Veluwe and to the forest. Nature is one of the big things that inspire me. The forest provides me with a lot of unexpected details. The leaves, the mushrooms, the water that is flowing, the small animals that are around. This exhibition, Rectangle Roots & Paved Tongues, was a kind of cross-over for me, between urbanisation and the need for green. It relates to my previous experiences of living in Beijing and Tokyo. With the millions of people living in those cities, you need skyscrapers and high-rises. But during my time there, I realised that people adjusted their environment and expressed the need for green, by putting plants in their surroundings. So in my paintings, you'll notice there are impressions of high-rises, as well as green dots and spots, for example in my work Roof harvest energy. Because on top of those huge buildings in Tokyo, there's often a green garden."
It seems that in capturing the urban, you've brought the chaos in which you lived back into your calm space here. Did you also create works while living in those big cities?
"I did, but as I had a permanent full-time job as a diplomat, I didn't paint that much. The works I created in for instance Tokyo were different because of the unique conditions that gave me another kind of inspiration. I used daily materials like plastic food boxes combined with rubber, for example. Therefore the material is another, separate source of inspiration, and sustainability is also very important to me. In those metropoles, people live in tiny apartments and have to throw away a lot, and all these things end up in a landfill. I often think about how we can bring nature back into our environments. My work on the mulberry bark comments on this, for example, because it is literally bringing nature into your physical environment. I am always wondering how I can use and reuse materials. That's why I also use plastics and other stuff that usually ends up in the garbage bin. I got inspired by different cultures and communities and was able to transform daily materials into new creations.
My work is a cross-pollination, influenced by both the East and the West, bringing them together.
How much of an effect does your studio space have on your art?
"It definitely inspires me. And you need to be able to properly hang your works, because you need to see them. I will sit and look at them and say: okay, what is missing? What should I add? You need a space to distance yourself from your artwork and see how you can improve it. What do I have to do to make it more interesting? How can I trigger curiosity?
I believe the viewer needs to be triggered and attracted by what they see. Even though that may not be what you as an artist intended to show.
But it's important for the viewer to have a connection with the work. That it gives them inspiration or energy, whether it's because of the colours or because of the image."
Do you ever create art nomadically, so not in a studio, but on the road or in other places?
"I always have my notebooks with me, to sketch and write down my ideas. I'll see something and get inspired. It can be a photo, a story, an animal, an African image, anything. I used to take blank postcards and a small box of paint with me when I went on holiday. I'd draw or paint the countryside, the plants, trees and flowers, the church, and so on. These things are really important for inspiration, as well as going to exhibitions. Oher painters and artists inspire me with their works. Not to copy them, but to create something new. That's why it is great to see what other artists are doing. Not only ones that paint, but also ones who make sculptures, objects or ceramics They give me ideas. Those lines, those forms… I transform them, they help me to create an image in my mind and that's what I put into my painting."
Do you distinguish between the space in which you work and other spaces in your home?
"Yes, I distinguish where I work, but I have to say that I also like to sit here in my studio and read. The newspaper, an article, art magazines, or even an entire novel; that's something I generally do here. So this is also the place where I get ideas, because of whatever I'm reading at that moment."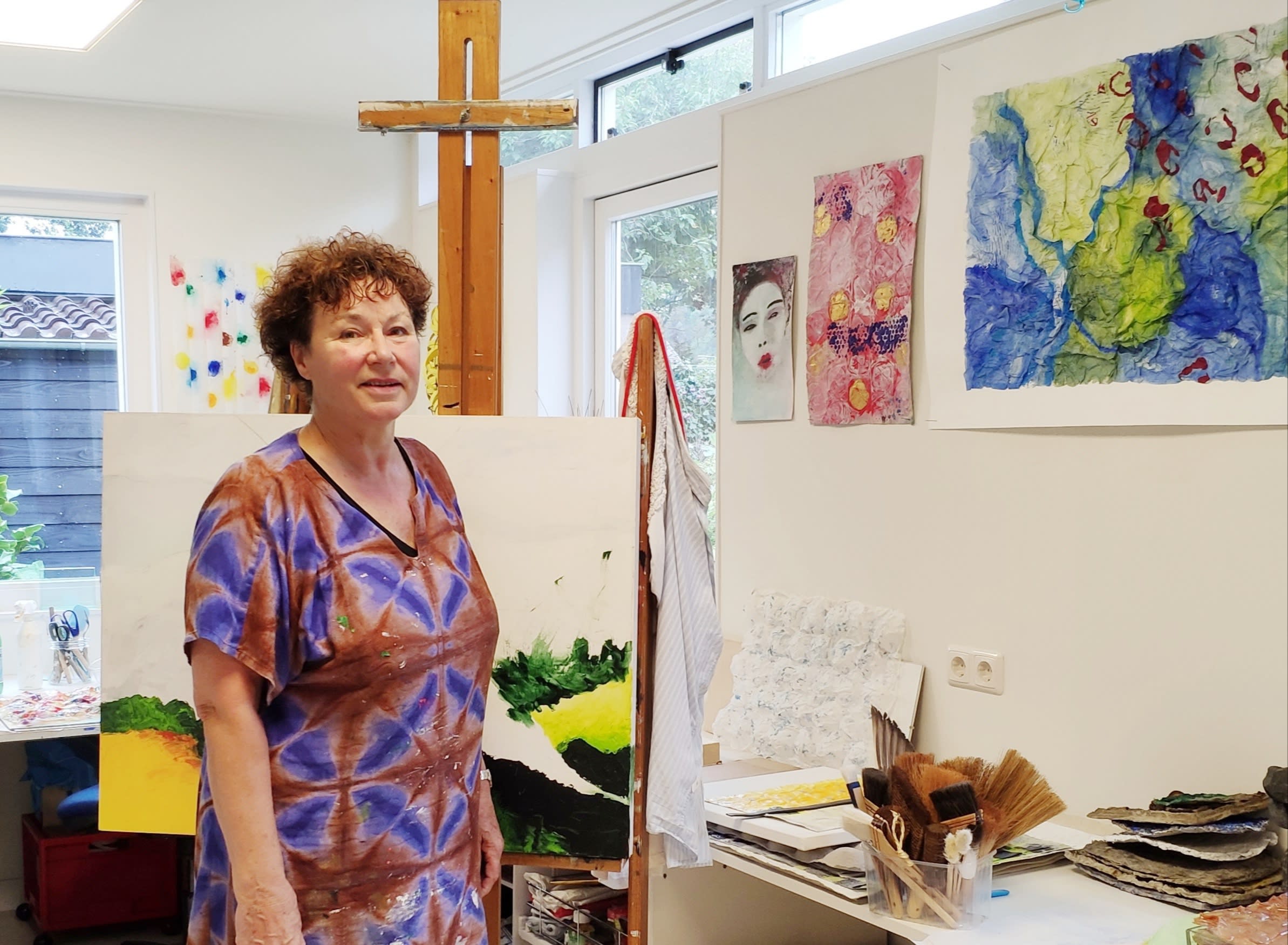 How do you decide on the aesthetic of your works?
Colours are very important to me. I like colourful paintings with strong colours.
I want to give a certain energy through my paintings. I'm always looking for distinction and harmony, not for confrontation. So I'm looking for colours and layers that provide a sense of harmony, but simultaneously give energy.
If you could create your own dream space to work in, what would it look like?
"The perfect space for me to work in would be a very old industrial building. I'm always fascinated by buildings with a history, our cultural heritage. It's terrible actually, because when I see one I immediately start thinking about how I would rebuild it and remake it for my own purpose of creation. Yes, those spaces would be ideal for me. Very huge ceilings and lots of light and space. But here in my studio I am also happy creating new works. I feel inspired by my surroundings."