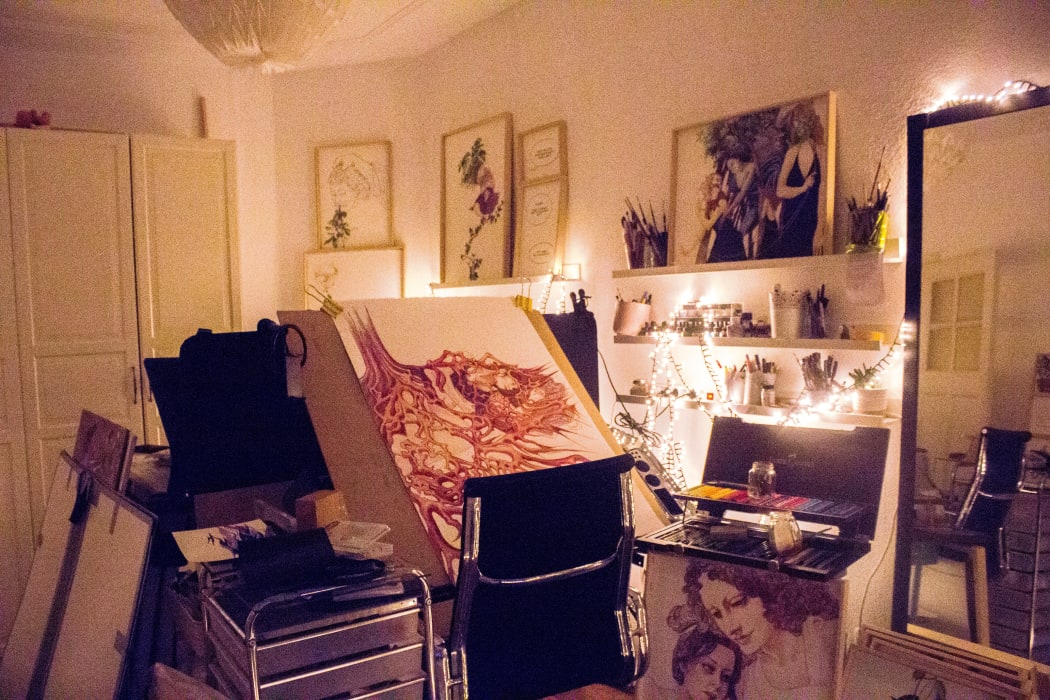 In Studio Sessions we take you on tour along the work spaces of MAPA artists. This time we visit Laurence Herfs, whose work will feature in the upcoming Amsterdam show Rectangle Roots & Paved Tongues. We meet Laurence at her home in The Hague. She talks to us about the need for safe spaces to create in, and how her roots as a comic book artist shaped her praised graduation work.
'You have to relate with your body to the bodies in my work.'
You have a studio space inside your apartment. Is this space exclusively used for art making?
Haha no, not at all. I do yoga here, I sing, dance, take naps and play with my dog. I am well aware of my privilege, being able to live in this multiroom apartment on my own. I thought getting it would lead me to designate its spaces for specific purposes, but that made me feel claustrophobic. I love doing everything you're supposed to do in a house everywhere. I write poetry on the toilet. I draw in the bath. My office is my bed. I get my best ideas by mixing up the purpose of spaces. Especially after a year of remote work, boundaries have blurred. This big cocoon of everything that I am is part of the same coherent whole within this space that I exist in, and that feels right for me.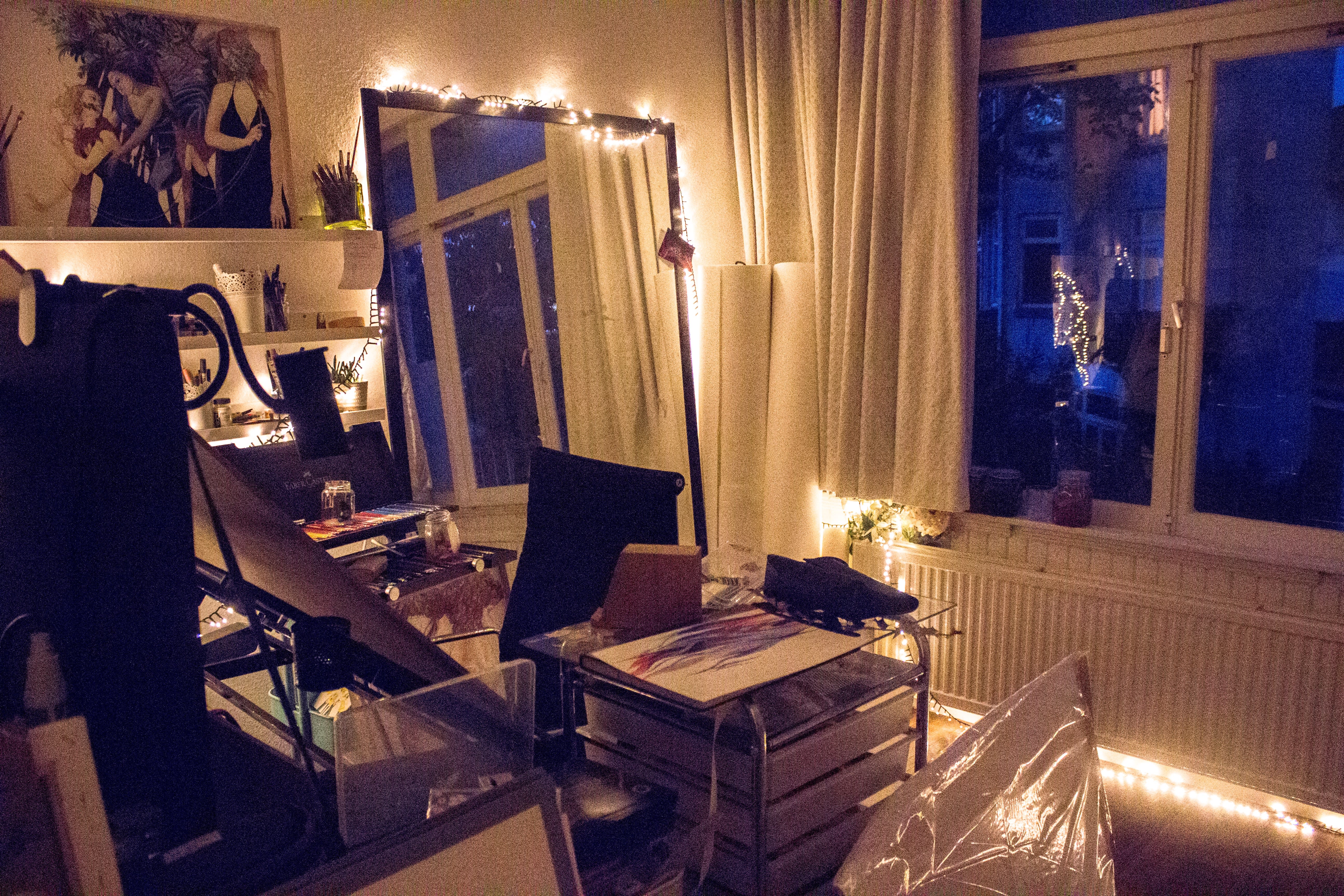 You graduated this summer from the KABK in The Hague where you had access to a studio space. Did you work there a lot?
No, not much. I recently published an article on what was going on at the KABK during my graduation year – it was a year of reckoning for the school in the wake of a #MeToo scandal, and being there didn't feel particularly safe. I was grateful to be able to work from home during the pandemic. My primary space of creation has always been my bedroom. Where and when I feel safe, I can create what scares me. Right now, this is the safest most intimate space I can imagine. It harbours a sense that I'm not being judged.
You graduated KABK with a lauded ensemble work spanning three walls that criticises the art school for its unsafe working environment. Would you have been able to create this piece working from the art school studios?
One hundred percent I would not have been - I needed to be away in order to reflect. My work is about transgressing the boundaries of the female body. I use my own body as the reference for my drawings. Since that process is so intimate, I feel I can only create within the safety of my own home. Once I'm done with a work, have transformed it into a statement, showing that body to others isn't scary, but whilst making it, she has to feel fully and only mine. Art school tries to break down your sense of safety. My work is about that attitude, and what it creates combined with gender power dynamics; sexual transgression and abuse.
How did you arrive at the idea of the individual pieces creating one big work?
I knew I would exhibit my final work at the school, in this big, cold space. I wanted to make intimate work that becomes intimidating on inspection. The risk, I guess, of working in an intimate space as I do, is that you create small, intimate work. I came up with a design made up of pieces that together would be more than the sum of their parts, like panels to a comic. I used to be a comic book artist and I wanted to go back to those storytelling roots. I created a linear narrative, left to right, that physically draws you in, forces you to look up and kneel down to read small poems and catch little details on leaves. You have to relate with your body to the bodies in my work.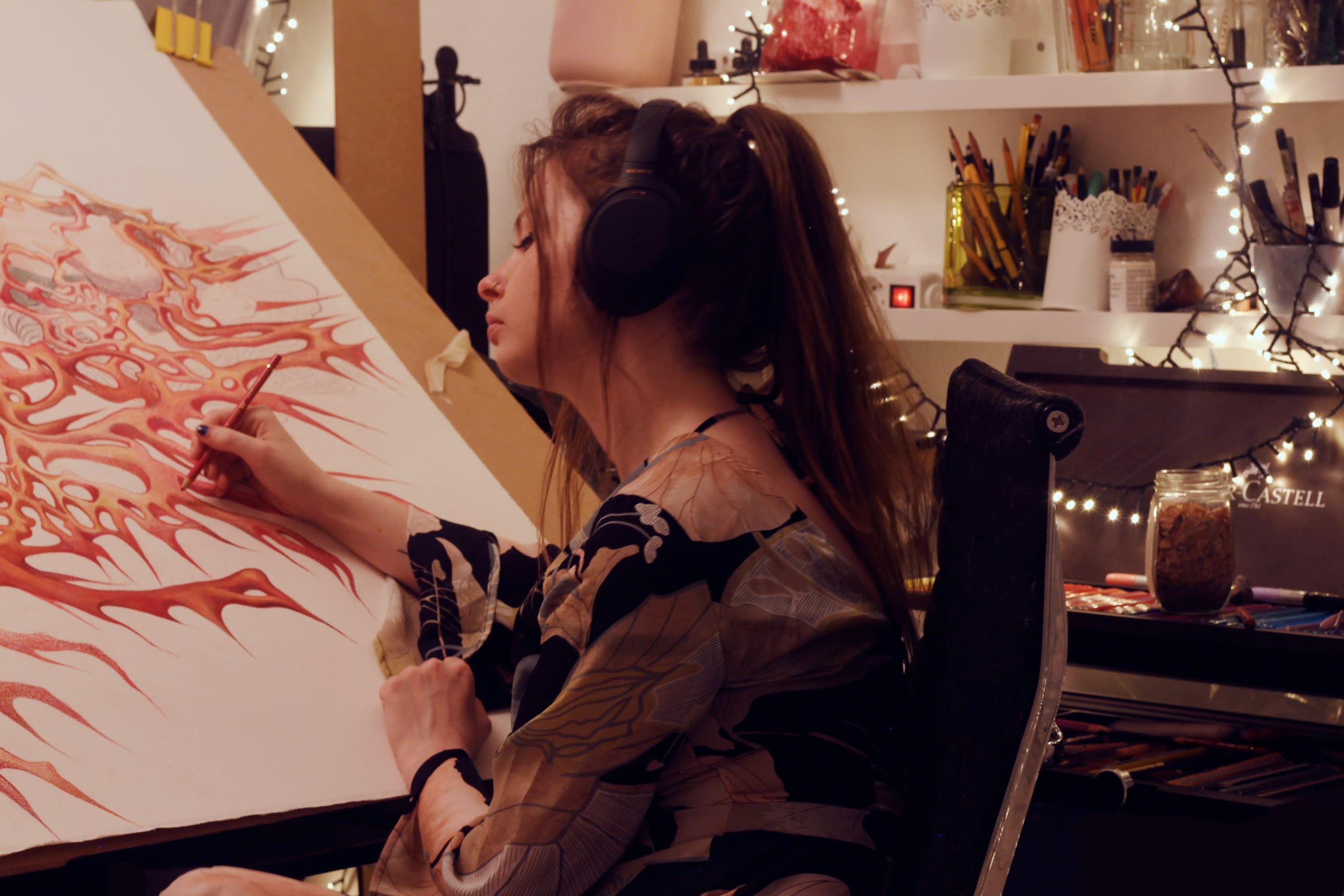 Speaking of roots, we see a lot of nature imagery in your works. How did you come to this visual metaphor?
When I went through a burn-out last year, me and my dog would visit the forest near my house every day. After some months, I found myself drawing plants, imagining them coming out through different crevices. Walking the woodland reopened my sense of intuitive image-making. It led me back to why I wanted to create in the first place: to process the world, and create a space for myself to talk back to her.
In your works we see plants coming out of female bodies. What symbolism is at work here?
I consider the female body another space, a highly policed and politicised one. I think a lot about how its boundaries are permeated by discourses seeking to make it less big, less loud. At the same time, I'm permeating inside out – see the plants spilling out, like a purging. My burn-out was what needed to come out, too. Stored anger and frustration came out as sickness.
The metaphor at work is 'to become a tree'. My burn-out made me tree-like, stuck and frozen. My body clenched up. I related that to the story of the nymph Daphne, who turned into a tree in order not to get raped. She had to be the one to change.
That's what we still say to girls, right? You change, you dress different, you don't go out at night.Eventually, the metaphor came to symbolise what was happening in the school as well. Girls started to share their stories online and some teachers got fired. If being a young woman means being treelike, I realised, then much like trees we have roots connecting us, allowing us to be stronger together. #MeToo was a connecting of roots. I never felt comfortable being loud in that school, but through connection to my own roots and to those of my brave classmates, I dared to take up space.

What had you, originally, hoped art school could offer you as an artist?
I work in seclusion, but became an artist through community. I grew up as a comic con kid, sharing drawings on online forums where everyone had the same nerdy enthusiasm. I loved it, but as I matured I began to miss a critical layer underneath. I started a fine art degree to find a lens, ways to make critical and political remarks within my work.
Yet I've often found contemporary art spaces, with their customs and language, cold and exclusionary. This keeps people from walking into a gallery. That's why I love that MAPA is so open. It makes use of the internet as a commercial space. It removes the privileged aspect of needing to be in London or Amsterdam.Instagram is a democratic thing, it's not a scary space to walk into. That's something that really drew me to them.
Thank you so much for sharing the vision behind your works, Laurence. One final question, what would your dream space look like?
Oh, my dream space exists! It's this little house, an artist residency, at the foothill of Mount Fuji in Japan. I'm saving up to go there. Being in nature and near mountains is so humbling, especially as a Dutch person. In the Netherlands, you're always the tallest thing in the landscape. Geographically humans feel smaller in Japan, the earth is so much bigger there. There's a humbleness, and a lot of respect for the fact that we do not control nature. It would be nice for me to further explore the theme of plants there, and to reconnect with my anime roots.