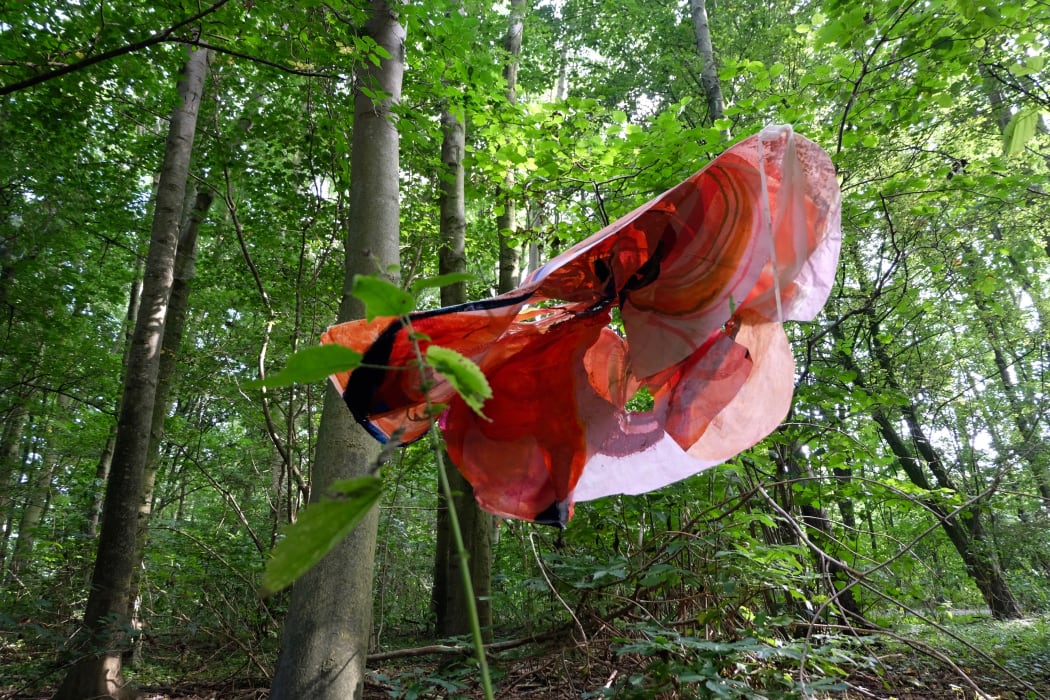 In Studio Sessions we take you on tour along the work spaces of MAPA artists. This time we visit Safira Taylor, our third artist in MAPA's upcoming Amsterdam show Rectangle Roots & Paved Tongues. We meet Safira at her place in the picturesque old streets of the Jordaan in Amsterdam. Currently in between studios, both Safira and her work seem to thrive on being in a constant state of flux. She tells us how photoshoots of beetles and spiders came to inform her artistic practice, one that, much like rewilded nature, is constantly developing.
'I encourage myself to do something differently every time. Nature works similarly, it has to.'
What a nice place you have, it's lovely how your work in progress is brightening up the floors. What's it like, being in between studios?
I had hoped to have found a new studio by now. I moved out of my last one in Noord Amsterdam end of August. A 23-year-old developer bought the building, I don't know what they'll do with it. I knew, by the way, that I could only stay for a year. It was easy at the time, finding a studio – I checked the municipality website, applied and got in – but I guess the pandemic had something to do with how quickly I'd found something. Before that, I had to work from home for a while, so my partner and I converted this living room into a bedroom, and the bedroom into a studio.
Sounds like a struggle. Are there positive sides to working from home as an artist?
Not many! I get distracted more easily here. I start working on mundane tasks, like doing the laundry. I might also take the time to write a grant application, so that's good. But I miss a big room to work in. You have to work very precisely in a small space and on small works.
In a big studio, you have more room to be less particular. You can work on larger and on multiple projects at the same time. I prefer working on lots of things simultaneously.
Is that so you can – how to put this – use procrastination to your advantage?
Well, my works have to be left to dry sometimes. I paint on both sides of my surfaces, so if I rush the process I can end up with paint everywhere. Similar risks arise when I cut and fold a work to make it more sculptural, I have to harden them with a medium and wait patiently for that to dry. A bigger studio space doesn't force things. There's no planning, I can let things rest. When creating multiple works at once, I'm not giving each too much thought and let the works speak for themselves.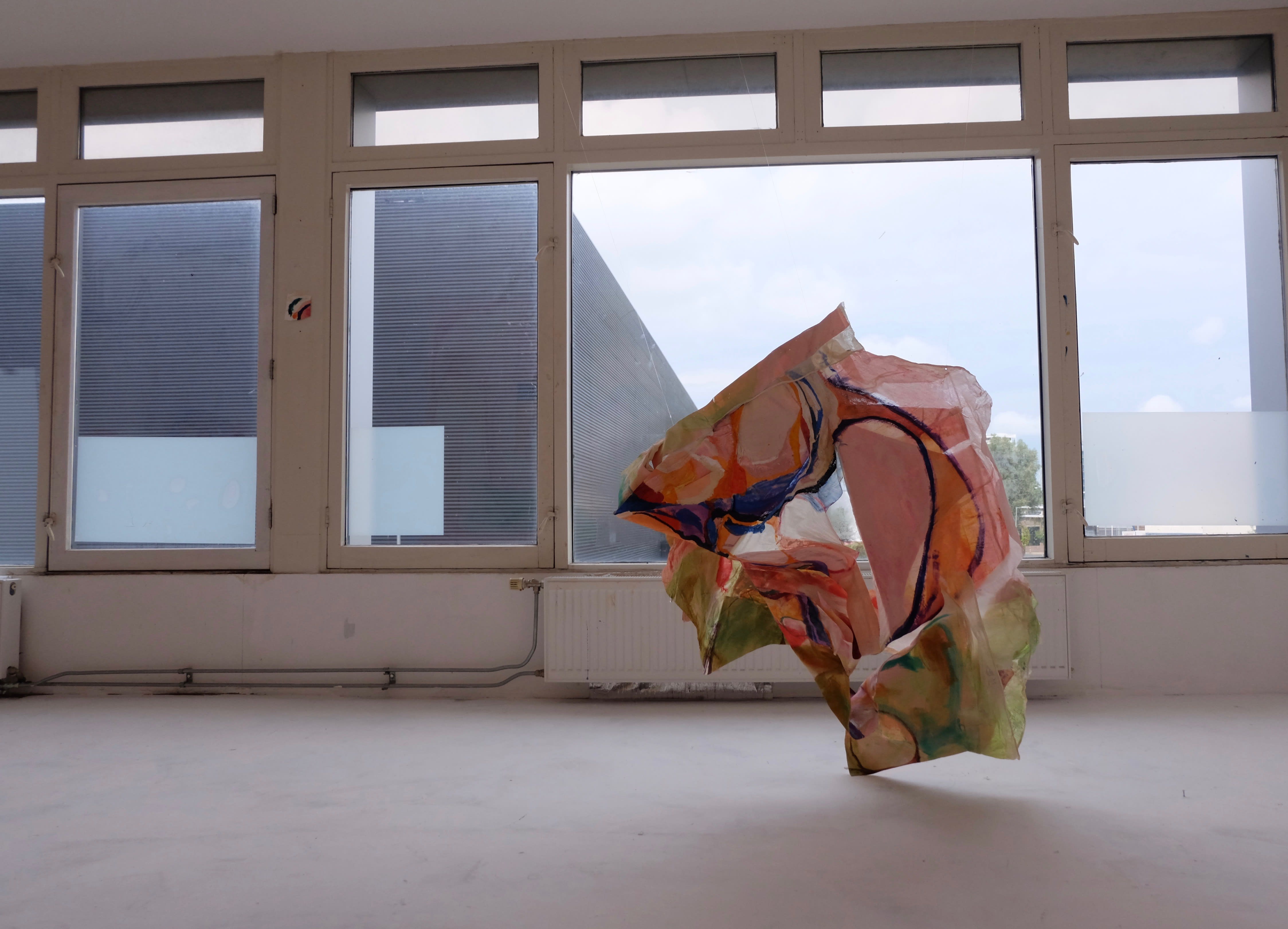 That's an interesting take. So you're not always the one deciding what your art will look like?
I've had works show me what they needed to develop, but it's not necessarily due to intuition. I disagree with this idea,
I think intuition is just a learned rhythm. You have to challenge yourself so that you don't work on muscle memory alone.
Otherwise you'll start putting down one line and then the next in a similar pattern every time. I think it's a good thing to be aware of that so things don't stagnate. My work, I believe, looks quite experimental because I encourage myself to do something differently every time.Nature works similarly, it has to. I've come to compare processes in nature to those of a studio practice.
Do you mean artists have to change, like animals do according to the theory of evolution?
Yes, the artistic process is a learning process, one of adaption. A while back, I got interested in rewilding, the process whereby farmland is given new life by letting wild plants take over, thereby attracting birds and insects. My studio serves as a rewilding environment, too. In my work, I do not so much as reflect specific objects in nature, but take its movements, ideas and history of development as a point of departure. From that starting point, I develop ideas that turn into a work. I layer so as to expose the work's process, linking it with nature's life cycles. Cutting and folding, which is just another way of painting to me, exposes both coloured sides. A lot of the time, a work ends up being multidimensional. That's something I really want to push in my coming work; rendering all elements visible.
Can you give an example of a process, a cycle of life, that inspired you as a starting point?
During the first lockdown I walked in Westerpark every day and noticed beetles mating on the leaves of a bush. On my walk some days later, I saw eggs on the leaves. The next, larvae appeared. Then the bush wilted when the leaves were eaten by the larvae, who then grew up to be beetles again. This spring, the same process happened.

Beetles and spiders also feature on your Instagram page. When did this interest start?
I think my conscious interest started back at RCA (the Royal College of Art). I showed my tutor these photoshoots of insects I had made, just for fun, at my parents' place. They moved to the French countryside five years ago and I took an interest in the wild garden. I didn't grow up in the countryside, so it was special to me. My mum's rosemary bush was full of these tiny, metallic striped beetles, they are absolutely beautiful. It's the colours, shapes and textures that draw me in. My tutor connected the images to the leaves I had collected during an earlier trip to Australia, a country I grew up in. 'Ah, now we can give your work some context,' she said. I created an installation, collected the beetles from Westerpark and filmed them crawling over objects, over my work, before returning them to the park. This video became part of my graduation show, which was online due to the pandemic.

Both your colour palette and cultural background are vivid. You have lived in many places. Could you live and create anywhere, or does one need a home base first?
Trying to start an art career outside of a city is hard, but for me regular trips to wild spaces are important. My parents' place in France is like a bubble, a safe haven where you're free to do whatever you want.
But I did an artist residency in Portugal for two months and it was hard to transport works afterwards. So I prefer to create larger works in one space. Which is not to say I do not value travelling. When you're so involved with your life in one place, being elsewhere can allow you to reflect on it more. There are places I would want to visit. I saw some amazing insects on Instagram that I'd want to see; a whip spider native to Tanzania. It carries its babies on its back.
What would it look like, if you could dream up your new fixed studio space for yourself?
Haha not too different from my last studio. Big, with lots of floor and wall space, a lot of light, and ventilation and heating. It needs to be able to get messy, and it would be nice to share the building with other artists. It was nice to have people around at RCA. You could wander around and talk to people about your work. My Amsterdam studio was more solitary. The other five artists kept their own schedule and we worked with our doors closed. But that also had its charm. It was nice not having to think about anyone else seeing your work for a bit, be my own critic for a while, set my own deadlines.
Oh, that's your doorbell. Who is it?
Someone came to deliver some flowers. They're for our neighbour.

They look beautiful. All in all, you're happy here in Amsterdam?
Yes, there's so much to see! There's a kinderboerderij (petting zoo) nearby and lots of people have these geveltuintjes (wall gardens). My dream studio would probably be either in London or here.