The digital era has offered us countless opportunities and advantages that have enhanced our life. This also goes for the art world: browsing and finding original art has never been easier. Instead of relying on galleries near you, you can view exhibitions from artists all over the world from the comfort of your own couch.
But how exactly do you go about buying an artwork from an online gallery, without seeing it in the flesh? Our ultimate guide will walk you through the most important things to keep in mind when you buy art online.
Art Buying Tip #1: Size matters
As obvious as it may seem, it's hard to estimate the actual size of a painting from a photo. Pay attention to the dimensions listed; you don't want to end up disappointed, or without enough wall for your work. Use measuring tape to mark the size of the painting on your desired wall. You can even use sticky notes or another simple tool to mark the corners. Leave them up for a while to get used to the size and make sure you're happy with it.
ART BUYING TIP #2: ASK AWAY
Have you got your eyes set on a certain work, but you're still hesitant about making such a big purchase online? That's completely understandable. After all, buying an original artwork is not the same as your average online shopping, so take your time, and don't be afraid to reach out to the gallery for more information.
Would you like to see some close-up photos, for example? Or a photo of the work in the studio? Wondering if a certain artist has more works available? Questions about shipping and insurance? Don't be shy and drop the gallery a line. They are always very happy to help out and discuss your needs.

Seeing a work in its studio context can give you
a better idea of the size.
Art Buying Tip #3: Research the artist
As in traditional museums and galleries, it is always interesting to read more about the artist behind a certain work. Get to know a bit more about their background, what inspires them, and the stories they want to tell with their art. Is there a certain message they want to convey, or a hidden meaning behind their work? Artist biographies are usually a good place to start.
ART BUYING TIP #4: USE AUGMENTED REALITY
Many digital galleries, like ours, offer online viewing rooms, in which you can see what a painting looks like on a wall. This can give you a better sense of size and scale. Want to virtually put the work in your own living room? There are many free apps or websites that let you do that, too. Take a picture of the room you're planning to hang the work in, upload it and add a photo of the actual painting.
Some free (trial) apps that work well well include: ArtPlacer, ARTSEE, Artrooms and OhMyPrints. Play around with different walls and artworks until you find your perfect fit.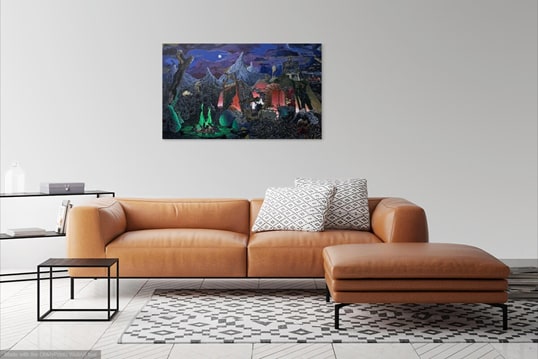 Augmented reality tools can help when buying art online.
Made via OhMyPrints. Art work: 'Dying Embers' by Marc Prats (160x100 cm)
Art Buying Tip #5: Consider other options
If you're still uncertain about how to buy art online, find out if the artist or gallery are planning any physical shows near you soon. Alternatively, you might even be able to reach out to the artist through the gallery and arrange a studio visit. Don't forget that the longer you wait, however, the higher the chance the work might sell to somebody else. It is a one-of-a-kind original, after all…
MAPA is an online, nomadic gallery. We host hybrid exhibitions that take place online, but also pop up physically in different European cities. We provide our artists with a fair compensation rate and want to make the process of collecting art smooth, easy and accessible.